Our Courses
Bakle Classes offers Excellent Classroom Coaching and Mentorship for Management Entrance Exams (CAT, NMAT, IPM, MBA-CET, SNAP, XAT, IIFT, CMAT etc.), Banking-Insurance-Staff Selection Exams (SBI, IBPS, LIC, SSC-CGL etc.), Law Entrance Exams (CLAT, MAH-LLB-5 years etc.), and Campus Recruitment Training (CRT), in Solapur.
About Bakle Classes
Atul Bakle Sir
Bakle Classes is owned and run by Mr Atul Bakle. Atul Bakle is highly passionate about teaching and learning. He likes to work closely with students to help them achieve their goals. He teaches for conceptual understanding of ideas which makes learning interesting and transferable. He has been both an average student and a topper and strongly believes that an average student can become a High Achiever by doing the right things.
Atul Bakle has done his MBA from Sydenham Institute, Mumbai. He has experience in teaching students from diverse backgrounds, taking classes for CAT, MBA-CET, Bank PO, Campus Recruitment Training & RRB at Pune, Gulbarga and Solapur. Students who have taken guidance from him have got into top colleges and organisations. He has started 'Bakle Classes' with a goal to provide the best quality courses and guidance for students at Solapur.
---
Teaching Methodology:
Learning through understanding and not by memorisation. When you understand something, you don't need to put in much efforts to remember.

(more…)
Accessibility to students
"I was determined I wanted to get an MBA, I started my journey by joining Bakle Classes, which gave me a wider perspective about MBA entrance exams. Having joined the CAT course, I knew I needed to work hard. Classes helped me to get all my concepts clear, what was lacking was my practice. Being…
Like many aspirants, I started my MBA entrance preparation from scratch, having little idea about the exam and required preparation strategies. Atul sir's mentorship made the journey not only a joyride but also purposeful. With a unique concept-oriented approach, he always emphasised on memorising less and understanding more. His thorough knowledge of the subjects never…
Initially, I was confused about MBA exams. There are so many of them and I had no clue that the preparing strategy for each one was very different. I had no idea where to begin and was on the verge of joining the crowd to go to Pune for preparation. It was my friend who…
Preparing for CET took 7 months. Conceptual learning, solving problems using shortcuts, doubt solving session, a number of classroom tests, mocks tests and mock analysis were all covered in this period of time without compromising a single concept or shortcut. Thanks to Atul Sir these 7 months took me from nothing to 99.66%ler. Course material…
One of the best teaching faculty in Solapur city.. just join without any doubt.. selection is sure in any bank exams and MBA CET… Technique development, exam-oriented teaching and self-confidence will increase…👌👍 With the help of Atul sirs experience and guidance, I cracked many exams selected as an IBPS PO (Union Bank of India), IBPS…
No doubt I made the best choice to join Bakle Classes in Solapur while everyone thinks of joining the classes in Pune or Mumbai for MBA entrances. It helped me get in-depth knowledge about all the subjects also I'm thankful for his utmost guidance and advice given throughout the course.
I want to thank Atul sir for the guidance and everything that he taught us. Sir's teaching methods and emphasis on using different methods for solving, were very useful from exam point of view which helped me immensely. Sir taught those methods which were helpful and suitable for exam like conditions. Whenever I had any…
Best coaching institute in solapur. Atul Sir explains every single concept in detail and is always available for solving any doubts. Sir keeps motivating all the students to do their best. I'm really thankful for the help and advice i got from sir.
I have got selected in Cwe Clerk VII. The way of your teaching I.e. first taking practice sets and then exercises has helped me a lot…and the way of explaining basic concepts is awesome so that if there is any twist in question we can solve that easily…
Vinod Prakash Hulagbali
selected in CWE Clerk VII
Check out more on Google Reviews
In Media
News published in Lokmat on 9th April 2019 and in Divya Marathi on 4th April 2019.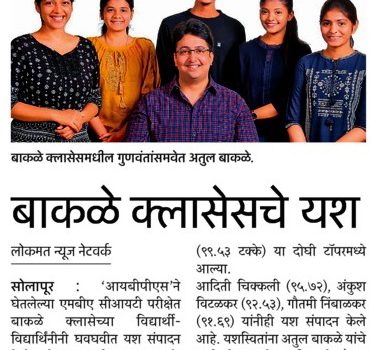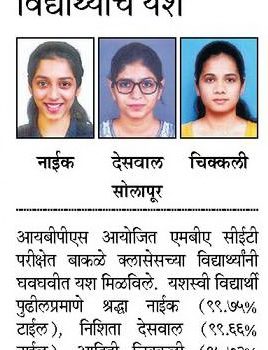 Bakle Classes has Set New Quality Benchmarks For Aptitude Courses In Solapur. Now the ball is in your court!
Get in touch now