Do you know?
Bakle Classes is the only institute in Solapur which has produced 99+%ilers year on year.

Every year Solapur Toppers are from Bakle Classes.

Only institute in Solapur which has a dedicated 99+%iler Mentor and Expert Faculty for MBA entrance exams.
Hence, we can undoubtedly say that this is 'The Best Coaching Class for MBA-CET' in Solapur. Also, you can expect to beat the best while staying in Solapur.
---
Most common mistakes committed by MBA-CET aspirants esp. from Solapur:
---
New MBA-CET 2022 Batch Highlights:
New upgraded course content and structure
Live Interactive Offline/Online Classes + Booster sessions + Mentorship + Doubt solving + Daily Practice Quizzes etc.
Hard Copy Study material + Online Mock Tests with national percentile & ranking.
Limited students in a batch.
Foundation course especially for students weak in Maths.
more course features mentioned below.
Full coaching will be delivered through live interactive sessions conducted offline/online.

Tests and class video recordings will be valid till the exam date of CET 2022.

Students aiming to get into top colleges and students who are weak in Maths are advised to start preparing early.

Any updates made to the course will be made available to all previously enrolled students.

Previous Daily Quizzes won't be available to students joining later (as there are new quizzes every day).
---
Bakle Classes is the Most Trusted and Reputed Institute for MBA entrance exam coaching in Solapur.
Many students have chosen 'Bakle Classes' over institutes in Pune and Mumbai. So, take a well-informed decision while choosing your institute.
Be First Time Right, Choose Bakle Classes For MBA CET Coaching In Solapur!
---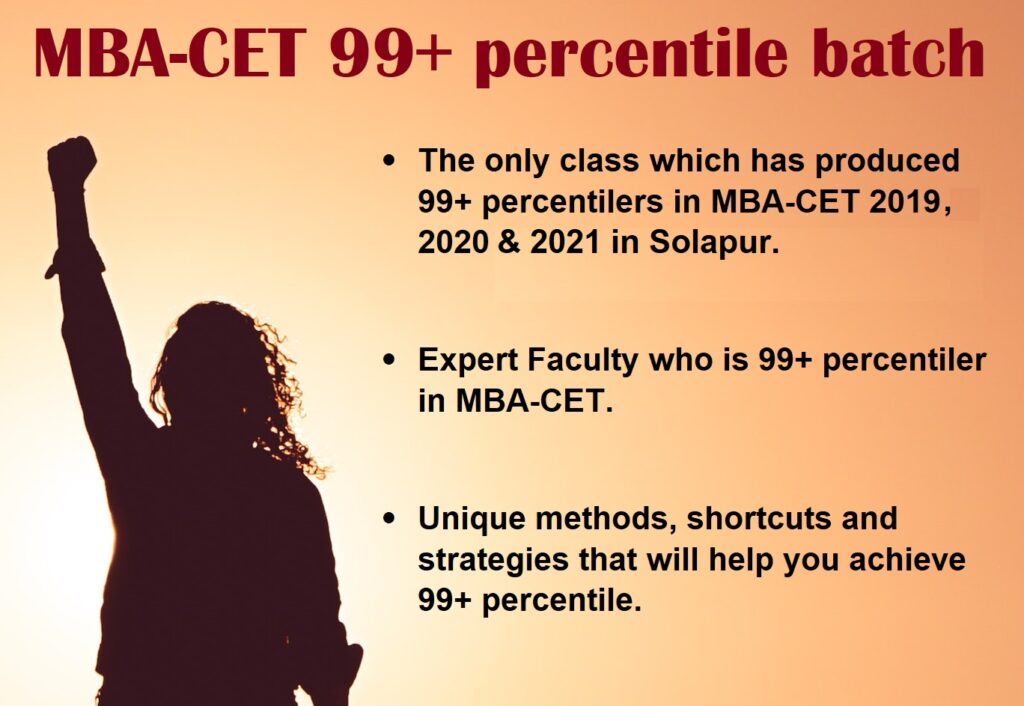 ---
Our Advance batches start in June/July/August/Sept (pre-covid times). Regular Batch is available in June/July/Sept/Dec/Jan. We strongly recommend students targeting top b-schools to start their preparation early and go for the full-term advance course. We also have options for students who just want to get into a decent b-school. Frankly discuss with us what you are aiming for, we will provide you with the best possible solution.
Guidance and convenient options for students starting preparation 2-3 years in advance are available.
---
---
MBA-CET Course features:
Firstly, we cover the basics to build a strong foundation and get you going in the right direction.
Later you will study multiple Advanced Techniques for solving problems and Exam-specific Strategies.
Learn all Vedic Maths/Speed Maths and Shortcut Techniques required to crack the Exam.
Most importantly, you will learn some Unique Shortcut Techniques and Strategies developed by Atul Sir.
Printed Study Material, Practice Exercises and Online Mock Tests based on the latest exam pattern.
We encourage Free Discussion and Interaction in the classroom.
Prompt Doubt solving and Reiteration of Key Ideas.
Advance tips & guidance for top-performing students.
Under-performing, but regular & hardworking students, will be given support and advice.
Session on Test-taking Strategies after completion of syllabus.
Detailed Mock Analysis and Discussion.
Finally, we also conduct 'Revision & Performance Improvement' workshops, a few days before the exam.
---
About MAH-MBA/MMS-CET:
It is conducted by the IBPS, on behalf of the 'State CET Cell, Maharashtra'. Admission to Full-time Post Graduate Degree Courses in Management, in Maharashtra State (including the prestigious 'Jamnalal Bajaj Institute of Management Studies, Mumbai') is through this entrance exam. The exam is generally conducted in the second week of March.
Exam Pattern: (based on 2020 year pattern)
Sr. No.
Section
No. of MCQs (5 options)
Time limit
1
Logical Reasoning
75
No sectional time limit.
2
Abstract Reasoning
25
3
Quantitative Aptitude
50
4
Verbal Ability/Reading Comprehension
50
 
Total
200
150 minutes
Computer-based test.
No negative marking. 1 mark for each correct answer.
In 2021 exam, the questions were not arranged according to sections (all 200 questions were jumbled up). Also, the number of questions in a section varied across different slots.
(For more details visit the official website).

---
Top MBA Colleges in Maharashtra that accept MAH-MBA/MMS-CET score:
 Jamnalal Bajaj Institute of Management Studies, Mumbai.
 Sydenham Institute of Management Studies, Research & Entrepreneurship Education (SIMSREE), Mumbai.
 Prin. L. N Welingkar Institute of Management Development & Research, Mumbai.
 SIES College of Management Studies (SIESCOMS), Mumbai.
 Department of Management Sciences (PUMBA), Savitribai Phule Pune University.
 College of Engineering, Pune (COEP)
 Xavier Institute of Management & Research (XIMR), Mumbai
 Chetna's R. K. Institute of Management Studies & Research, Mumbai
 MET's Institute of Management, Mumbai
 Lala Lajpatrai Institute of Management (LLIM), Mumbai
 Indira Institute of Management, Pune
 Indira College of Engineering and Management, Pune
 Thakur Institute of Management Studies and Research, Mumbai
 Rizvi Institute of Management Studies and Research, Mumbai
 Vivekanand Education Society's Institute of Management Studies and Research, Mumbai
 Indira School of Business Studies, Tathwade, Pune
 Indira Global Business School, Pune
 Alkesh Dinesh Mody Institute for Financial & Management Studies, Mumbai
 Fr. C. Rodrigues Institute of Management Studies, Mumbai
 St. Francis Institute of Management & Research, Mumbai
 Shri Ramdeobaba College of Engineering and Management, Nagpur
 Bharati Vidyapeeth's Institute of Management Studies & Research, Navi Mumbai
 Vidyalankar Institute of Technology, Mumbai
 Durgadevi Saraf Institute of Management Studies, Mumbai
 Atharva Institute of Management Studies, Mumbai
 Neville Wadia Institute of Management Studies & Research, Pune
 Jankidevi Bajaj Institute of Management Studies, Santacruz, Mumbai
 Gurunanak Institute of Management Studies, Mumbai
 Savitribai Phule Pune University Sub Centre, Nashik
 Department of Business Management, Rashtrasant Tukadoji Maharaj Nagpur University, Nagpur
Top MBA Colleges in Pune that accept MAH-MBA/MMS-CET score:
 Department of Management Sciences (PUMBA), Savitribai Phule Pune University.
 College of Engineering, Pune (COEP)
 Indira Institute of Management Pune (IIMP).
 Indira College of Engineering and Management (ICEM), Tal. Maval.
 Indira School of Business Studies, Tathawade
 Indira Global Business School, Pune
 Neville Wadia Institute of Management Studies & Research
 Dr. D.Y. Patil Unitech Society's Dr. D. Y. Patil Institute of Management & Research, Pimpri, Pune
 Dr. D.Y. Patil Pratishthan's Dr. D. Y. Patil Institute of Management Studies, Akrudi, Pune
 Pune Institute Of Business Management, Pune
 Sinhgad College of Engineering, Vadgaon (BK), Pune
 Sinhgad Technical Education Society's Sinhgad Institute of Management, Vadgaon (Budruk),
Pune